Quick Links
---
Why Wear Contact Lenses?
Wearing contact lenses means you don't have to wear glasses. They will give you the freedom that a person with perfect vision would have. With the contact lens being placed on your eye you get the perherial vision that glasses cannot provide. This makes contact lenses ideal for sports and activities where wearing glasses is impossible or dangerous.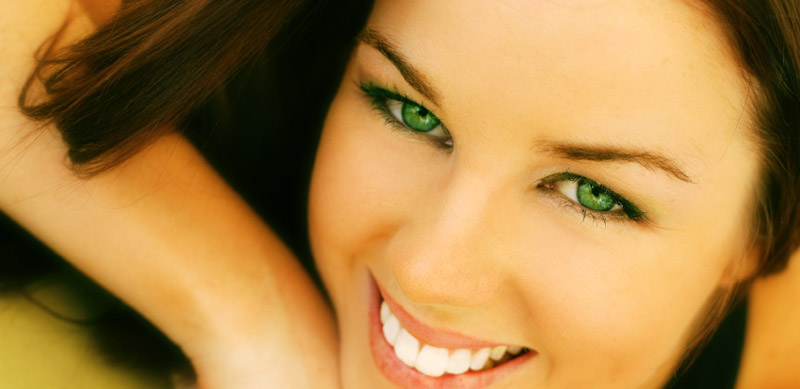 Some people don't want to wear glasses for cosmetic reasons so contact lenses is their preferred option. However, it is always a good idea to have a pair of glasses for emergencies and for the health of your eyes. Wearing contact lenses all the time reduces the amount of oxygen to your eyes and can be harmful, so it is also important to give your eyes a rest.
Unfortunately, not everyone can wear contact lenses because of a disease or an irregularity with their eye. Please check with our optometrist to see if contact lenses are a viable option for you.
---
Types Of Contact Lenses
Contact lenses come in a range of different types to suit you and your lifestyle. Our qualified optometrists will help you decide which are the most suitable contact lenses for you. Contact lens technology is improving all the time, so it is important that you maintain regular contact with Focal Point so that you get the best available contact lenses.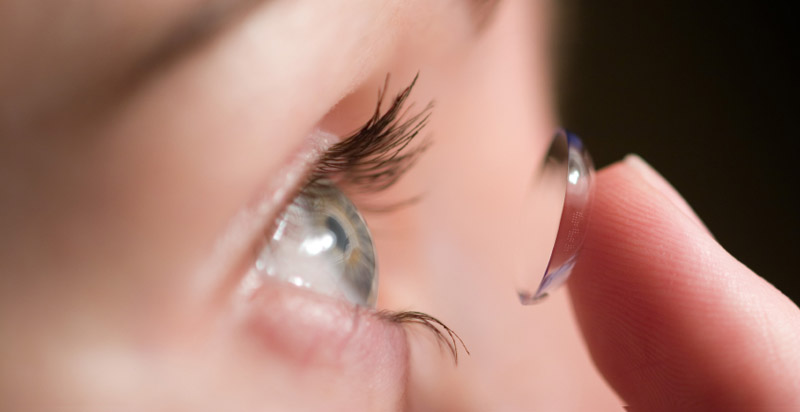 DISPOSABLE LENSES
Disposable lenses are designed to be worn for a limited time and then discarded. Disposables have a replacement schedule which can range from 1 day to 3 months depending on how well they are taken care of and the environment in which they are worn. Disposable lenses are more comfortable and easy to maintain because they are used till the replacement time and just thrown away.
ADVANTAGES
- No build up of deposits, because of the short life span of the lens
- Reduced risk of inflammation
- Spare lenses are readily available
- Cost of replacement less, if lost or damaged
- Less time and effort required with cleaning of lenses
- Good for contact sports or where risk of losing them is higher than normal
DISAVANTAGES
- Increased cost on an annual basis
- Can be more difficult to handle
- Unable to fit all people due to eye shape or condition
- A subset of soft contact lenses
DAILY WEAR SOFT CONTACT LENSES
Daily wear soft lenses are made of polymer-plastic materials that are flexible. These lenses allow oxygen to pass through to the cornea, provide great comfort, and are easy to adjust to. They can also be worn for longer periods of time and can come in different colors. Some drawbacks include a shorter life span, an inability to correct some vision problems, and a lack of durability. They are great for sports or where the risk of losing them is higher than normal and and are readily available. They are disposed of at the end of the day, so you start each day with a fresh pair.
ADVANTAGES
- Good initial comfort
- Fewer problems with wind, dust and glare
- Suitable for contact sports
- Good for intermittent wear
- No blur when wearing spectacles following removal of contact lenses
- Less likely to be lost
- Lenses will usually last 1-2 years (not an implied guarantee)
A percentage of the lens is composed of water (between 38-74%), Being a larger size than a RGP contact lens, the soft contact lens has an approximate diameter of 14mm.
DISADVANTAGES
- Lens cleaning takes more time, and is essential
- More prone to deposits
- Lenses tend to dehydrate easier, i.e. with concentrated tasks e.g. VDU
- Easier to rip, split or damage
- More likely to encounter problems with long-term wear.
EXTENDED WEAR LENSES
Extended wear lenses are soft lenses that have been made to allow for longer periods of time (about 7 days) without removal and cleaning. These lenses allow more oxygen to pass through to the cornea. An example of these types of lenses is Focus® NIGHT & DAY™; lenses which allow for 30 nights of continuous wear. These lenses are made from silicone hydrogel that allows up to 6 times more oxygen to pass through than disposable lenses, do not dry up as much as ordinary soft contact lenses, and have a bio-compatible lens surface that decreases protein and bacteria buildup.
RIGID GAS-PERMEABLE(RGP) LENSES
Rigid gas-permeable lenses are similar to hard contact lenses but are made of better material that allows more oxygen to pass through then even soft contacts. They are made of hard plastic that gives crisp vision and corrects most vision problems. They are durable and have a longer life span than soft contact lenses. Like hard lenses they do require some time to get used to and are not recommended for highly physical activities.
ADVANTAGES
- Have a diameter of approximately 9 to 9.5mm, and are available in a wide range of gas permeable materials.
- Good vision
- Ease of maintenance
- Few solution allergies
- Good for long-term health of eye
- Lenses tend to last longer(up to five years)
DISADVANTAGES
- Intially less comfortable and longer adaption time
- More problems with wind, dust and glare
- Easier to lose
- Not usually compatible with spectacle wear, as you may experience blurring of vision with glasses for a period of time after removal of the lens
---
Contact Lens Solution
At Focal Point we stock a complete range of solutions and products for your contact lenses. We suggest using the solutions that were recommended to you by your optometrist. If you wish to change the brand of your solution, check with our optometrist before doing so. This is necessary to check the compatibilty with your eyes and contact lenses.
---
Cost & Procedure
The fee for fitting contact lenses varies due to the type of lens, but the following appointments are necessary for each lens type and are included in the initial starting cost.
1. GENERAL EYE EXAM
Includes checking the prescription and health of the eyes, some contact lens measurements and a general 'chat' about contact lenses.
2. TOLERANCE TEST (or Contact Lens Fitting)
This requires two appointments, several hours apart. During the first of the appointments contact lenses (based on earlier measurements) are placed on the eyes. When the eyes have 'settled' the fit of the lenses is evaluated. If the lenses fit satisfactorily they remain on the eyes until the second appointment. Here the longer term fit and the final prescription is decided.
3. CONTACT LENS DISPENSE
The insertion and removal, cleaning, care and the handling of the lenses is demonstrated. When you are proficent at this you will take the lenses home.
4. AFTERCARES (or Check-ups)
These appointments are complusory and very important to maintain the health of your eyes. They are also designed to check that you are coping with your contact lenses and if there are any problems they are dealt with. There will be two scheduled aftercare appointments, at two and six weeks after collection. However, if you are having problems, then all additional aftercares are included in the starting package for up tp three months from the collection date.
5. COLLECTION
A starter kit of contact lens solutions and cleaners.
COST OF PROCEDURE
Adult $355
Student$320
COST OF CONTACT LENSES
The cost of contact lenses varies depending on what type of lenses you wear. Discussions with our optometrist about how often you wish to wear the lenses and in what situation ie. for sports or social occasions only, will help in determining whether you should be fitted with daily, two weekly, monthly or conventional contact lenses. Daillies can cost from $2 a day or if you are fitted with extended wear lenses that you sleep in, it can be little as $1.40 a day. For these types of lenses you are paying for convenience. Disposable contact lenses that you take out each day are even more cost effective, although you have the task of cleaning the lenses. Discuss with our optometrists the right contact lenses for you.


Back to top
---
Contact Lens Data Sheets
The sheets below are a guide only. For more personal and professional service please come instore and discuss your requirements.

Contact lenses

Contact Lens Insertion & Removal